SOS/Snowden Onsite Septic
A Message from Our President: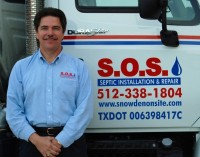 Hello and welcome to our website. We look forward to hearing how we can be of service to you.
Background: Our experience dates back to 1972 employing leading edge technologies on the shores of Lake Austin - technologies still not well understood by many in this industry. We are proud to have set the standards that have now become common practice in the septic industry, and we continue in that leadership position.

Commitment: We will provide you with "Quality Service...Guaranteed" in all of our services. We support that commitment with our written policy of "Satisfaction Guaranteed".
Customer Comments (partial list):
We've been pleased with Snowden Onsite for 20 years.
We use SOS. They are really good. The owner, Jeff Snowden, helped us solve some major problems with our system a few years back.
Thank you for eight years of outstanding service.
Wanted to say that this was the best pumping service ever. The guys were professional, polite & did an outstanding job. They were the most thorough ever & didn't even have to ask them to do it, they just did.
Hey Jeff, I like doing business with Native Austinites when possible.
You do what you say you are going to do - unlike my two (2) former service companies.
We are recommending to the buyers that they continue to use you. I will pass along your info to them. You have been an amazing company to work with.
All around excellent service, thank you.
Always respond promptly to our calls. Thanx!
We're really happy working with you.
Anytime we had a problem you all were great - knowledgeable + friendly - thanks –
I recommend you to my R.E. clients
Thanks for great service!
Field Services:
Residential and Commercial Systems
Service & Repairs - all Types, all Brands of Systems
Design and Permitting
Septic Tank Pumping & Cleaning
Service Plans & Maintenance Agreements
Recovery of Failing Septic Systems
Grinder Pump & Lift Station Repairs
EMERGENCY SERVICE, Saturdays, for our maintenance agreement and service plan customers only
Contact us by phone, mail, email, or join us on Facebook.

We look forward to providing you "Quality Service...Guaranteed".

Thank You,
Jeff Snowden, President